StormhelmCurse
Midland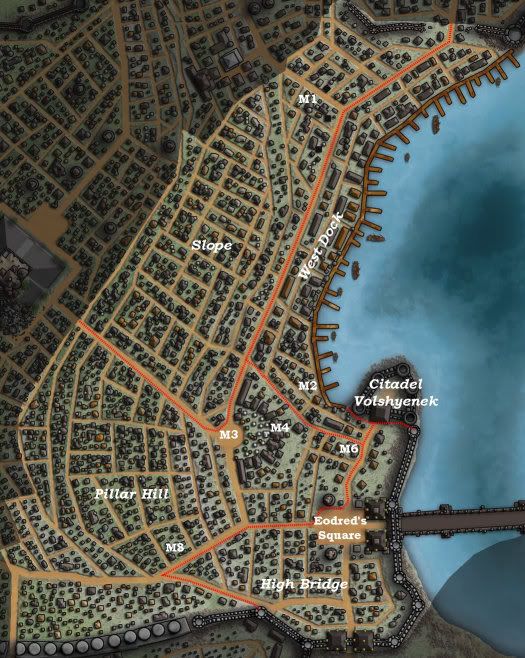 When most people think of Stormhelm, they think of the cosmopolitan and friendly district of Midland. Situated on the leeward side of Citadel Hill, Midland stretches from the end of Enderin's Wall south to Gray District and the Pillar Wall. It rises from sea level to climb the eastern slope of Citadel Hill, where it ends just below the summit line. Midland encompasses the wards of High Bridge, Pillar Hill, Slope, and West Dock. As the home district of both the Stormhelm Guard and Sable Company, Midland has the fewest gangs and gang battles in the city. Despite that, the thieves' guild does a brisk trade in the district thanks to the disproportionately high number of merchants, banks, and other commercial and financial concerns.
High Bridge: Despite its proximity to West Dock, not every longshoreman and fisherman lives in High Bridge— roughly half live in the cheaper tenements of lower Pillar Hill. High Bridge does have its fair share of these hardworking folk, as well as the families of Stormhelm Guards and Sable Company marines stationed nearby. Like the rest of the district, though, the ward also houses a wide crosssection of different kinds of people.
Pillar Hill: The most demographically diverse ward in Midland—and indeed, the entire city—Pillar Hill houses both fabulously wealthy merchants in its northern corner, beneath the shadow of Castle Korvosa, and hard-working laborers and longshoremen along the Pillar Wall south of Pillar Hill Boulevard. In addition to its wide distribution of wealth, the ward also claims variety in the races and ethnicities of its residents. Every human ethnic group represented in Stormhelm (which is far from all of them) can claim at least one member in Pillar Hill. In addition, members of all seven civilized races and tief lings call Pillar Hill home, as do a few creatures normally considered "monsters" by humans, though these residents generally stay to themselves.
Slope: As its name implies, this ward exists on the eastern slope of Citadel Hill and overlooks West Dock and the Jeggare River. Despite its proximity to rough-and-tumble West Dock, Slope holds numerous libraries, museums, and other places of culture. Slope also houses the third-highest concentration of educated people in the city, behind only University ward and the Acadamae. The engineers brought to the city to build the Great Tower settled in this ward and formed a small neighborhood.
West Dock: This rugged ward contains no residences. It does house an extensive number of warehouses, fish processing facilities, and the remains of a block dedicated solely to meatpacking. The prevailing winds push the meaty stink of the ward southeast, providing Citadel Volshyenek and much of High Bridge with unending waves of unpleasantness. Unwelcome but stubborn druids frequent the docks, proselytizing the evils of civilization and urging fishermen and crabbers to release their catches back into the river. These unwashed scoff laws frequently cause minor skirmishes when they attempt to enforce their ideals with more than just words.
M1 – Bookmaker
M2 – Bailer's Retreat
M3 – Gold Market
M4 – Eodred's Walk
M5 – Citadel Volshyenek
M6 – Creaky Hammock
M7 – Eodred's Square
M8 – Pestico's Dolls and Figurines

| Midland Housing | Purchase Price |
| --- | --- |
| House (Slope) | 30,000 gp |
| Townhouse (Slope) | 20,000 gp |
| Townhouse (High Bridge) | 10,000 gp |
| Townhouse (Pillar Hill) | 15,000 gp |
| Apartment Suite (Slope) | 5,000–20,000 gp |
| Apartment Suite (High Bridge) | 2,000–8,000 gp |
| Apartment Suite (Pillar Hill) | 4,000–12,000 gp |
| Apartment Suite (West Dock) | 2,000–6,000 gp |
| Midland Rentals | Price per Month |
| --- | --- |
| House (Slope) | 100 gp |
| Apartment Suite (Slope) | 15–60 gp |
| Apartment Suite (High Bridge) | 7–26 gp |
| Apartment Suite (Pillar Hill) | 15–35 gp |
| Apartment Suite (West Dock) | 6–18 gp |
| Tenement Flat (High Bridge) | 4–13 gp |
| Tenement Flat (West Dock) | 3–9 gp |
| Studio (Slope) | 5–20 gp |
| Studio (High Bridge) | 3–8 gp |
| Studio (Pillar Hill) | 5–12 gp |
| Studio (West Dock) | 2–6 gp |