StormhelmCurse
Heights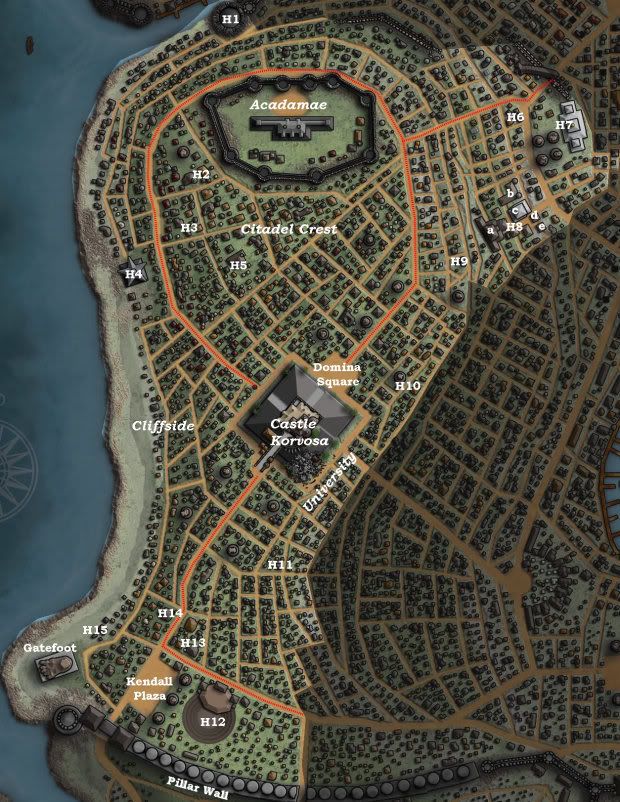 Standing atop Citadel Hill, the Heights District has a commanding view of the rest of the city, which its residents look down on – both figuratively and literally. Nearly all of Stormhelm's power players reside in the Heights. The Heights District holds three wards: Citadel Crest, Cliffside, and University.
Citadel Crest: The most expensive ward in the city, with more than a dozen noble families and twice that many powerful merchants. It contains two of the city's modern landmarks: the Great Tower and the Temple of Asmodeus.
Cliffside: Lesser nobles and not-quite-as-wealthy merchants cram their homes up against the cliff that gives the ward its name. Two Sable Company watchhouses along the cliff keep this ward particularly safe. This ward contains the Kendall Amphitheater, the Gatefoot, and a section of the Pillar Wall.
University: This ward houses the University of Stormhelm, the grand Jeggare Museum, and a number of of smaller schools and cultural locations of various kinds.
H1 – Great Tower
H2 – Upslope House
H3 – The Frisky Unicorn
H4 – Temple of Asmodeus
H5 – Gilded Orrery
H6 – Jittery Quill
H7 – Jeggare Museum
H8 – University of Stormhelm
H9 – The Wise Dragon Inn
H10 – Tenna's
H11 – Marbledome
H12 – Kendall Amphitheater
H13 – Crested Falcon
H14 – Dawn's Rest
H15 – The Overlook
| Heights Housing | Purchase Price |
| --- | --- |
| Manor (Citadel Crest) | 160,000 gp or more |
| Manor (Cliffside) | 80,000 gp or more |
| House (Citadel Crest) | 100,000 gp |
| House (Cliffside) | 50,000 gp |
| House (University) | 40,000 gp |
| Townhouse (Citadel Crest) | 80,000 gp |
| Townhouse (Cliffside) | 40,000 gp |
| Townhouse (University) | 30,000 gp |
| Apartment Suite (Citadel Crest) | 16,000–60,000 gp |
| Apartment Suite (Cliffside) | 8,000–30,000 gp |
| Apartment Suite (University) | 8,000–20,000 gp |
| Heights Rentals | Price Per Month |
| --- | --- |
| House (Citadel Crest) | 300 gp |
| House (Cliffside) | 140 gp |
| House (University) | 120 gp |
| Apartment Suite (Citadel Crest) | 50–200 gp |
| Apartment Suite (Cliffside) | 25–100 gp |
| Apartment Suite (University) | 25–60 gp |
| Studio (Citadel Crest) | 18–70 gp |
| Studio (Cliffside) | 8–35 gp |
| Studio (University) | 8–20 gp |